Contact
Business Hours:
Mon - Fri: 9am - 7pm
EMAIL / SMS CONTACT
Due to nature of our work we can serve you more efficiently when you contact us using
contact form
and provide moderate details about the project. Thank you!
Email:
info@stairs2u.ca
Telephone
direct: 289 400 3289
office: 905 467 4124
Office Address
1244 Speers Rd.
Oakville, ON
L6L 2X4
Follow us on

FREE ESTIMATES
We offer 20% DISCOUNT between Dec 1 and Mar 31
We use one of the best on the market
Benjamin Moore &copy AURA©
paints

We use
German
,
environmentally friendly
,
waterborne
finish based on polyurethane-acrylate with excellent
wear and scratch resistance
HARDWOOD STAIRS & RAILINGS
INSTALLATION | REFINISHING | SALES
EUROPEAN CRAFTMENSHIP since 1989
OAKVILLE, MISSISSAUGA, TORONTO, BURLINGTON, MILTON, HAMILTON
We offer a full range of hardwood stairs services in Oakville, Mississauga, Burlington, Milton and Hamilton (Greater Toronto Area)
HARDWOOD STAIRS & RAILINGS INSTALLATION
RECENT HARDWOOD STAIRS REFINISHING PROJECTS - VIDEOS

RECENT HARDWOOD STAIRS PROJECTS - PHOTOS
* place mouse cursor over the image to enlarge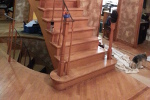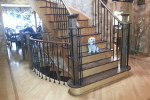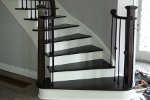 Design Recommendations
We assist you with each step during hardwood stairs refinishing or installation project, starting with design and color choices. We make sure that staircase design matches your existing décor and colors.
For example, for a lighter, natural and gold floors we recommend darker steps and railings and lighter colors for risers and side, open stringers. Please check the photo above. The project has been completed in Oakville in October, 2016.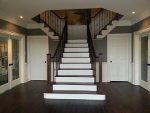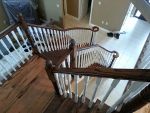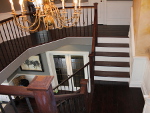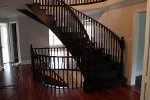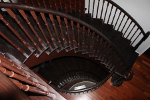 We have recently started using
Benjamin Moore dark chocolate stain with varnish.
The end result is very impressive, refinished staircases look like new and fabulous.
Please take a look at the above photos and
contact us
in order to get more details.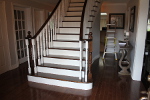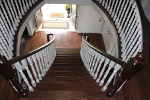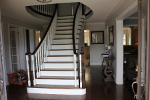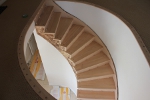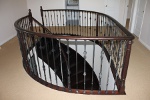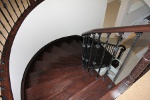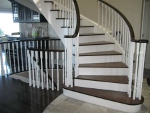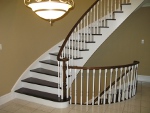 HARDWOOD STAIRS & RAILINGS REFINISHING / SANDING
Hardwood stairs refinishing / sanding - our process
Hardwood railing refinishing / sanding
We will make your old stairs look brand new - more details
HARDWOOD STAIRS & RAILINGS SALES
Wood stairs, staircases, hardwood railings, curved stairs, spiral stairs
Unique stair systems
Affordable prices & excellent quality
REFINISHING STAIRS - TRANSFORMATION IN PHOTOS
FULL HARDWOOD FLOORS SERVICES
Full hardwood floors services
Hardwood floors installation, sales and refinishing
Artistic floor design - www.artisticfloordesign.ca
OTHER HOME RENOVATION SERVICES
Cleanness
In order to keep high quality standards and minimize disruption to your regular lifestyle, we strive to keep the working area clean and safe
Sanders connected to vacuum cleaners
Working area vacuumed and cleaned on daily basis
If possible, working area separated from the rest of the house (using foil dust protection barrier)
Most of the cuts performed in the garage, which is thoroughly cleaned after work completion
All customer concerns are taken under consideration
At Stairs 2 U we take pride in our European Craftsmanship and high quality standards brought back from Europe and passed from father to son.
FREE BUFFING, SCRATCH REMOVAL and EXTRA COAT of VARNISH AT THE LATEST STAGE OF THE PROJECT
HARDWOOD FLOORING
www.artisticfloordesign.ca

FULL STAIRS SERVICES:
Hardwood stairs installation
Hardwood stairs refinishing
Hardwood stairs sales
Wood & metal railings installation
Hardwood railings refinishing
Wood & metal railings sales
FREE carpet removal and 1/4 round and nosing installation
* when ordered hardwood stairs installation, call for more details